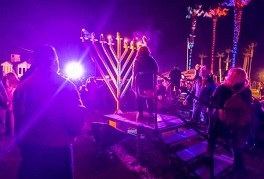 The Seal Beach Menorah Lighting will be held Sunday Nov. 21st at 5pm. 
The Menorah brings the warmth and spirit of Chanukah to the young and old of our community. The free event offers live music, traditional Chanukah foods, and the grand lighting of a giant 9-Foot Menorah. The outdoor event will feature Pre-Chanukah fun for the whole family. The Menorah @ Seal Beach is free and open to the public and paid for by Chabad of Los Alamitos and local sponsors.
Featuring: Lighting of 9-foot Menorah!  EZZI & ISAAC GORDON IN CONCERT Gift Bags* Menorah Kits *Donuts, *Driedels, and Menorah Selfies! 
Featuring: EZZI / Isaac Gordon / and more live music!
 This years lamplighters are:
The Shamash: Reserved: Reyngold Family
Candle 1: Reserved: Dennis and Claire Singer 
Candle 2: Reserved: In honor of Gary Prince
Candle 3: Reserved: Erman Family
Candle 4: Reserved: Bikov Family
Candle 5: Reserved: Rubin Family
Candle 6: 
Candle 7: 
Candle 8: Reserved: In honor of Tibor and Yvonne Rubin and the community.
Event co-sponsorship: $1000 Light a candle, $770 Sound and Lighting co-sponsor, $560 music co-sponsor. $450 Treats Giveaway co-Sponsor, $360 Stage and Tent co-sponsor. $180 Supporter listing. All Sponsors names will announced at the event! CLICK HERE TO DONATE!
Past Events Sponsored by: StoneLain.co, Cheryl & Kalman Horowitz, Franco Family, Youdeem Family, Blum Family, Berik & Franco Family / Yefim & Irina Tsalyuk / Giveaways Sponsored by: Lynda & Arnie Fine / Renick Family / Laio family / Richard Goldberg / Gil Fine and family / Richard Wolpow / Yaron Telem / Sparrow Trading / Fayngor Family /  Tesser Family, Ross, Cathy, Dana, & Kelly / Hirsch Family / Dr. Lawrence Feiwell MD / Jeff Singer /Sandler Family, Rene Perdomo, Dr. Ellen Dayon, Gabriel & Rose Reyngold, Israel Reyngold, Tsiekhin Family, Bikov Family / Burstien Family / Fishman Family / Bogart's Coffee / Flom family Jenn, Noah, Dylan / Walt Levy, Sharon Brannon, Vlad Rodov,  Marah Fineberg-Kuck & Aaron Kuck. and a donation was made in Memory of Renee Natkiel Gerry.  Bogart's Coffee / Beachwood Brewery 
Get a free Menorah delivered to your door!! (while supplies last) Call 714-828-1851.